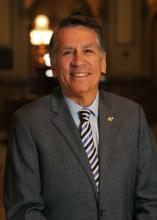 Rick M. Garcia, Executive Director
Rick M. Garcia has over 25 years of leadership experience ranging in the fields of government, nonprofit and private sectors across the nation. He most recently served as the Regional Administrator for the U.S. Department of Housing and Urban Development's (HUD) Region VIII in the administration of President Barack Obama. In addition, Rick was designated as Senior Policy Advisor to HUD Secretary Shaun Donovan on Sustainability representing the field offices. He also served as HUD liaison to the Denver Metropolitan's Regional Air Quality Council which advised the Governor and the General Assembly on Environmental Protection Agency's air quality standards.
In 2010 Rick was appointed to his role as HUD Regional Administrator, where he oversaw the delivery of HUD's homeownership, affordable housing, community development, fair housing, and Native American housing programs on behalf of HUD Secretary Shaun Donovan. He directed the management of HUD's regional office in Colorado, Utah, Wyoming, North Dakota, South Dakota, and Montana.
Previously in his career, Rick was elected to the Denver City Council in June 2003. He focused on economic revitalization, access to new transit projects and business development in the city during his tenure. He was recognized in 2006 by the Hispanic Contractors of Colorado and the Denver Hispanic Chamber of Commerce as Government/Community Advocate of the Year.
Rick has also been an RTD Board Commissioner. During his tenure, he brought the necessary stability and credibility to the RTD board to get voter's to successfully pass the FasTracks initiative.
He has also served as State Director of Small Business Development in the Office of Former Governor Roy Romer while managing his business development career with the E. W. Hahn Company of San Diego, CA. While living in Pueblo, he also worked for the Pueblo Economic Development Corporation.
Some of Rick's honorary service to government include, being appointed as a former Board Chair of the Colorado Housing and Finance Authority (CHFA) and serving as Vice Chair of the NEWSED Community Development Corporation. Rick is also a founding Community Advisor to the University of Colorado's Latino/a Research and Policy Center. Garcia also served as a board member and as chair of the Denver Regional Council of Governments (DRCOG). He served as co-chair of a newly formed Foreclosure Task Force designed to look at the growing problem of home foreclosures and abandoned properties.
Rick has a Master of Public Administration Degree from the Harvard University's John F. Kennedy School of Government and holds a Bachelor's Degree in Business administration from Columbia College.
---
Executive Director's Office Staff
The Colorado Department of Local Affairs' Executive Director's Office provides leadership and support to the Department's divisions. Department services strengthen the capacity of Colorado's communities and local governments through a range of unique functions including affordable housing, financial and technical assistance to local governments and ensuring the equitable administration of property tax law throughout the state.
 
Dionne Stroter, Deputy Executive Director

Prior to joining DOLA, Dionne served as the Executive Director of Denver's Office of Children's Affairs (OCA), an agency whose primary focus is improving outcomes for children and youth in Denver with an emphasis on programs that serve our most vulnerable and low-opportunity populations. A longtime public servant, Dionne has had leadership roles in several city agencies in addition to OCA including the Department of Finance, the Department of Public Works, the Department of Parks and Recreation and General Services. She also participated in the city's Retail Marijuana advisory team, helping to develop the city's regulations and processes when retail marijuana was legalized in 2014. Dionne's passion is state and municipal governance, and she is a fierce advocate for using the resources of local government to promote equity, remove barriers, and ensure every member of the community is included in long range plans.

A Denver native, Dionne has been a dedicated advocate for children and youth in Denver's Far Northeast neighborhoods, having lived in the area for more than 30 years. She is a graduate of the University of Colorado at Boulder, where she attained a bachelor's degree in Environmental Biology. In 2010 she received a Master's of Public Administration from the University of Colorado at Denver, and she has been an active alumnus for several years.

An active participant in numerous community efforts, Dionne has served as the chair of the Aurora Cultural Affairs Commission and is currently the co-chair of the Central Park United Neighbors Equity and Diversity committee. She is also a graduate of the Denver Metro Chamber of Commerce Leadership Denver Program and is a current member of the Civic DNA cohort. In her personal life she is an accomplished crafter and a single mom to two emerging adults.

Bruce Eisenhauer, Legislative Liaison

Prior to joining DOLA, Bruce worked extensively with municipal governments. He served as the Interim City Manager for the City of Laramie, Wyoming, the City Manager for Evans, Colorado, the Administrator and Economic Development Director for Waconia, Minnesota and the Community Development Director for St. Peter, Minnesota. He worked for a private firm, specializing in economic development and served as a Main Street Development Director, specializing in downtown development in Aberdeen, South Dakota. Bruce has a Master's in Business Administration and a Bachelor of Science degree in Management and Marketing, both from Mankato State University, Minnesota.
Gerri Bragdon, Executive Assistant
Brenda Valerio, Human Resources Director
Chynna Cowart, Press Secretary
 
Board of Assessment Appeals

Casie Stokes, Board Administrator

Casie leads the BAA's mission of ensuring Colorado taxpayers have access to a fair and impartial hearing process. Casie directs a team of five staff in supporting the work of the nine-member Board that resolves property tax appeals at the State level. Before joining the BAA, Casie clerked at the trial and appellate court levels, and practiced as an assistant county attorney in county and state court and before administrative bodies, including in the area of property tax litigation. She was instrumental in building Jefferson County's child support problem solving court, a leading-edge and collaborative alternative that provides resources to assist participants in overcoming barriers. She holds a J.D. degree from the University of Iowa College of Law, and a B.A. in Global Studies from the University of Iowa.

Housing

 

Alison George, Division Director 

Alison George is the state director of housing serving the Colorado Division of Housing (DOH) in the Department of Local Affairs (DOLA), where she directs all DOH programs, ranging from statewide housing voucher programs and manufactured housing code and mobile home park regulatory oversight, to Federal and State funding for constructing new affordable housing. Alison brings more than 25 years of experience in affordable housing finance and development. Before joining DOH, Alison served Mercy Housing Colorado as its Regional Vice President of Multifamily Housing and the Michaels Development Company as its Vice President of Development overseeing housing development in Colorado, Missouri, Kansas, Oklahoma, and Texas.

Local Government

 

Chantal Unfug, Division Director 

Chantal's early career as a business woman and part time ski instructor in Aspen and Winter Park led her on a continued path as an advocate for community and economic development, neighborhood stabilization and revitalization, including serving as the Director of the Women's Business Office under Governor Roy Romer and as the Manager of Denver Parks and Recreation under Mayor Guillermo "Bill" Vidal.

Chantal blended her experiences in international communications, business ownership in the medical and biotechnology finance arena with her public sector career in community and economic development, policy implementation, legislative affairs and management. She has worked in local governments on the front range and western slope, having served under two governors, three Denver mayors, and as a county administrator. Her expertise ranges from organizational and managerial effectiveness, performance leadership, communications and community and economic development. She is a skilled negotiator and excels at strategic planning and stakeholder engagement.

This path led Chantal to the Department of Local Affairs to serve as Director of the Division of Local Government in 2013. Since this time she has lead over 65 employees provide research, technical assistance, problem solving and expertise on community and economic development with a focus on local governance. She also oversees multiple unique state and federal grant programs, with 4 advisory committees distributing over $200M annually to strategically invest annually in over 1000 local community development and resilience projects. Over the past 5 years in DOLA, she has identified multiple gaps and trends to successfully develop, implement and launch programs to address the needs of communities across Colorado, including for example, 4R- Rural Response, Recovery and Resilience, Colorado Resilience Office, and Rural
Economic Development Initiative.

Having served on several community boards in her career and is currently serving on the Colorado Mountain Club, Colorado Resource Center and Globalminded Boards of Directors. She is a graduate of Boston University.

Property Taxation

 

JoAnn Groff, Property Tax Administrator

The State Board of Equalization appointed JoAnn Groff Colorado's Property Tax  Administrator on January 1, 2006.  She is responsible for maintaining a professional  working relationship with County Assessor's, the General Assembly, the Department of  Local Affairs, the Governor's office, other elected officials, various industry groups and  Colorado's property owners. She is responsible for administration of fair and equitable property taxation in the tate of Colorado as well as maintaining a strong, professional relationship with various 
county and state elected officials, a variety of state agencies, industry groups and the state's taxpayers.  

Before JoAnn's tenure as the Property Tax Administrator, she devoted much of her career to public service  in the state of Colorado.  She served as a state legislator from 1983 to 1989, as a member of the State Board  of Equalization from 1993 to 2005 and spent 13 years as the President of the Colorado Retail Council, a  not-for-profit membership based trade association for Colorado's retailers.   

JoAnn studied at Georgetown University and earned a B.S. in Business Administration from Boston College.  Additionally, JoAnn is the recipient of a Gates Foundation Fellowship and attended the Harvard University's  John F. Kennedy School of Government Program for Senior Executives in State and Local Government.